JAISH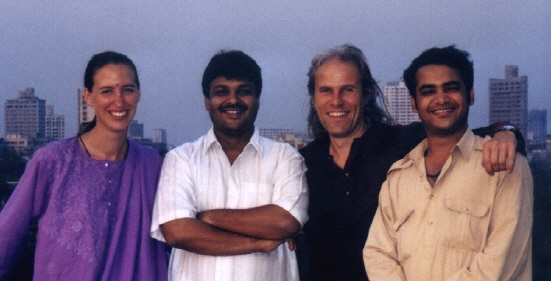 Sie finden den deutschen Text weiter untenProgramm

JAISH is a swiss-indian cultural-exchange

Switzerland:




JOPO - altosax

, voice


Ingeborg Poffet - accordeon, voice

India:




Prakash Shejwal - pakhavaj, voice

(biodata english, Biographie deutsch)


Milind Sheorey – bansouri, voiceUdai Mazumdar - tabla, voice

(And Anant Kunte – sarangi, on CD JAISH, Return to Bombay, XOPF-Records Nr. 27)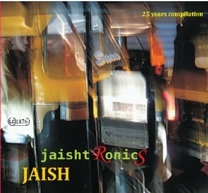 release as

the 25-years-compilation 2014:
CD jaishtRonics, JAISH, XOPF-Records 049 - ein süchtig-machender Surreal-Mix aus Wahn und Wirklichkeit
as double-cd together with Duo fatale, Fatalos remix

XOPF-Records 048,


online available now in any shop like amazon or rippletunes or qobus or itunes ...

The group / history

JOPO & Ingeborg Poffet, two Avantgarde-musicians, who are international playing as Duo fatale, have already went several times to Bombay during their Asia-travels. Here, in the house of Shejwal, they studied the traditional north-indian hindustani-music and the language of the pakhavaj.

In 1991 they founded the group JAISH. The first year they still played and lived together with Pt. Arjun Shejwal, one of the last great masters of the pakhavaj, who died in 1992. To his son Prakash Shejwal he gave his love to the music, tradition and deeply expressions. Like him Prakash is openminded for influences and combinations with other rhythm-constellations, New Music and Jazz.




At the end of the second stay they documented their work as the trio JAISH (JOPO, Ingeborg & Prakash) with a recording in Bombay, which is published as music-cassette "mumbai-dance" (XOPF-Records no. 18).

MC JAISH "Mumbai-dance" on XOPF-Records no. 018

In '93 that trio JAISH played at the 2. int. XOPF-Festival '93 in Basel, Switzerland, followed by other concerts and a tour in april '94.

During their stay in Bombay at the beginning of '96 they reformed the group to a quartet: with the great master of the sarangi Shri Anant Kunte, who has just done his newest solo-recording for All India Radio. Born in 1930, he was a stuff member of All India Radio Bombay for more than 35 years. That's why he played with many very great musicians as accompaniment. He uses to play with Prakash Shejwal for a lot of recordings since 8 years.

With him they recorded the

CD JAISH "Return to Bombay" on XOPF-Records Nr. 027

and played c

oncerts in december '97 in Germany: Kunstverein Karlsruhe, Kino Traumstern Lich and Switzerland: Schaffhausen, and 3.int.XOPF-Festival '97, XOPF-Pool-International'97, Workshop "musical communication" at Musikwerkstatt Basel

In january '98 tempel-concert at the Gharana-Festival of Pakhavaj in Bombay with a great success. After that they did a working progress on new compositions with the sitar-player Atul Keskar with recordings in Pune.

In 1999 they worked out a new program with the bansouri player Milind Sheorey, who is now the regular fourth member of JAISH. They have made a home-recoring in Bombay to document the new work.

In 2006 JOPO & Ingeborg Poffet have created a new program for Jaish'n electronics, which they have recorded in Studio Platinum in Bombay, India, for their new cd "jaishtRonics"with further recordings & mixings in France and Switzerland

in 2008 and 2014

.




Interesting in that experiment of JAISH is the communication between the two cultures with the compositions of JOPO & Ingeborg. Having roots in both traditions, the improvisations are very important.

JAISH is available as a trio with Prakash Shejwal, JOPO & Ingeborg Poffet, the heart of the group, since 1999 as a quartet with Milind Sheorey, bansouri, , and since 2006 as a quintet with tabla (if he is available with Udai Mazumdar, side-man of Ravi Shankar.)

Last concerts in India:
on 15/16th of january 2005 at Panse-Gharana-Festival of Pakhavaj in Bombay, India (Indian Book and JAISH)


18. february 2005 in Belapur, New Bombay
1st of january 2006 at Panse-Gharana-Festival of Pakhavaj in Bombay, India (Indian Book and JAISH)

JOPO began to play bassguitar in blues and rock bands. At the age of 19 he started to learn altosax and later bassclarinet, both by playing jazz. Also he was leading several jazz formations. His wife

Ingeborg Poffet started early to play several instruments and to sing. She had the first concert at the age of four with the accordeon. Later she played classical and contemporary concerts in orchestras and as a free lancer. From '84-'86 she studied computer-music at the Musikhochschule Cologne (Germany).>

JOPO & Ingeborg founded the "Duo fatale" in 1989. In their exciting formation they got a symbiose of composition, interpretation and improvisation. Living in Basel, Switzerland, they are both composers for all their groups and for command works as for theatre and multi-media-performances. They use to meet local musicians on their tours all over the world as in Turkey, Russia, New York, Indonesia, Germany, Sudan and Egypt. With Duo fatale they had concert-participations at int. festivals in Basel, Cheboksary, St. Petersburgh, Vilnius, Riga, Tallinn, Pärnu, Minster, Sevilla Expo '92, Singapore, Grenoble, Jakarta and Khartoum. Published releases with Duo fatale on XOPF-Records are "Fatalos" CD (no.5), "Fatalos 2" CD (no.11) and "living in Apollon's garden" from Duo fatale and the Duo fatale Orchestra CD (no.23).

Milind Sheorey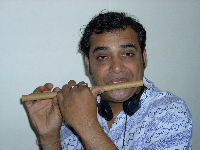 from Jabalpur (Madhya Pradesh) learned the bansouri (bamboo-flute) by the guru late Pandit Prabharar Bagaddeo and "Padmabhushan" Shrimati Annapurna Devi of Maihar Gharana. He was awarded with the national scholarship for classical hindustani-music '93-'95. He played with classical musicians as Ashwini Bhide, Pandit Birju Maharaj, Ajay Pohankar and others. Also his musical work is settled in Bhajans, Ghazals and Haveli sangeet as well as in film music and solo-concerts. Since 1987 he's working as a professional musician in Mumbai. He has worked with Prakash Shelty in "Hard notes loose change", a fusion album 1994-95 for the label "crescendo music". He did many recordings and releases on different labels as a side-musician with concerts in abroad like Paris and Amsterdam; his solo-concerts took part on festivals in Mumbai, Bangalore, Hyderabad, Bhopal and Pune. Since 1994 he playes regulary with Prakash Shejwal even for international concerts.
Prakash Shejwal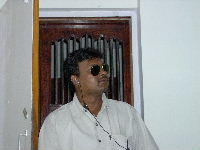 from Bombay learned pakhavaj from his father and guru late Pandit Arjun Shejwal. In the music-competition for percussion in Bombay he got the first prize in '76, and in '83 he received the Gold Medal at the competition held by the All India Radio, and has now established himself as an "A"-graded artist of the All India Radio and India Television Programs. He plays as a soloist as well as an accompanist for great musicians like late Pt. K.G. Ginde, Dr. Bhat, Pt. K.Kumar, Pt. Siyaram Tiwari,Pandit Jasraj, the Dagar-brothers and Vishwanath Ramshes at the Tanzen Teagraja Festival in New Delhi '96. In Europe he has played with his father late Pt. Arjun Shejwal ('90), Shrimati Shruti Sadolika ('91, ´92, 2004), Shujat Khan ('92), Ashwini Bhide ('95, with the swiss group hati-hati ('93) and the american vocalist Lisa Sokolov '92 (CD XOPF no. 17). In Switzerland he also took part at the bamboo-project '92 and at the XOPF-Pool-International '93 (MC XOPF no. 20) and at the XOPF-Pool-International '97 (Basel).He has also played along with the western groups which had their concerts all over Europe and received a great degree of appreciation from the audience there.
Udai Mazumdar (Basel/Delhi)is a tabla player of the Benares Gharana. He learnt from late Ashoutosh Bhattacharya, and the world-renowned sitar Maestro Ravi Shankar, Udai has participated in many Indian and international festivals and recorded several CDs, besides playing for and with Pt Ravi Shankar on different occasions. Udai is based in New Delhi and Basel, from where he travels for his concerts and teaches students privately at home in the age old traditional way of Indian classical music.

"The dynamic vitality of the altosaxophone and of the pakhavaj and the sensitive meloditiy of the accordeon united to a completed and good balanced sound. That was also impressed by highly individually harmonics as well as by freshly spontanity." (Zofinger Tagblatt 25.04.94 Ursula Ging)
" The different rhythm-countings changed from piece to piece (12, 10, 7 or 8 beats). On thatJOPO & Ingeborg did (not only) improvise. Especially I liked the way they found space to play and how they used it. Both of them didn't only try to sound "indian" nor did they just use a traditional percussion as a beginning for own musical meditations. The exchange between the musicians was extremly sufficiant and was really convincing" (Basellandschaftl. Zeitung 16.11.93 Ruedi Ankli)
The Instrument ---------The story of the Pakhavaj-----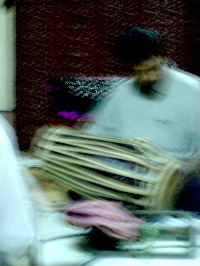 The genesis and evolution of pakhawaj are shrouded in the mists of antiquity. By all accounts, it is considered to be the most ancient of the Indian percussion instruments. It has been a highly developed percussion instrument since time immemorial. The accuracy of its pitch and the variety of its tone have no parallel anywhere in the wider sphere of world percussion music. The instrument has been equally popular since ancient times in the Carnatic tradition, where it is known as mridangam. Pakhawaj is cylindrical in shape and hollowed out of a block of wood. The two sides have skin covers which are tightly stretched over both the openings and are fastened to leather hoops which, in turn, are held fast by interlaced leather braces passing along the length of pakhawaj. Cylindrical blocks of wood are inserted between the braces and the wall of pakhawaj. These help to alter the pitch as and when required. The left side is covered with a mixture of flour and water, like plaster, to add to the resonance in playing. It generates a full, bass sound. The central portion on the right side carries a permanent application of a black substance made from a mixture of boiled rice, manganese dust, iron fillings, and the like. This lends the instrument its typical tone. Pakhawaj was immensely popular during the Moghul period, when it was used as an accompaniment to vocal music, as also with instruments like been (veena), rabab and surbahar. It was, in fact, an inseparable accompaniment in the renditions of austere classical compositions like dhrupad, dhamar and sadra, which enjoyed tremendous vogue in the middle ages. Although, over the last few decades pakhawaj has been gradually going out of fashion in keeping with the waning popularity of the old styles of vocal and instrumental music, it is undeniable that in point of sheer subtlety and complexity, it continues to enjoy its ancient pre-eminence, both as a solo and as an accompanying instrument. This disc reveals how, at the hands of master-players, pakhawaj can weave hundreds of subtle and graceful patterns of rhythm in thrilling manner.

Contact:




Poffet & Poffet music-production




Güterstr. 213,

CH-4053 Basel, Schweiz




Tel & Fax: ++41 / 61 / 361 56 70




e-mail: poffet-poffet at bluewin.ch

JAISH ist ein schweizerisch-indischer Kulturaustausch
Letzte Konzerte in Indien
15/16.01.2005 Panse-Gharana-Festival of Pakhavaj in Bombay, India (Indian Book and JAISH)


18.02.2005 Belapur, New Bombay
1.01.2006 Panse-Gharana-Festival of Pakhavaj in Bombay, India (Indian Book and JAISH)




Ausserdem haben sie im März 2006 mit JAISH ihre neue CD jaishtRonics im Studio Platinum in Bombay aufgenommen.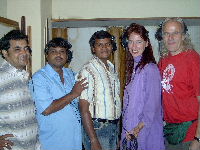 JAISH bedeutet die Verbindung von traditioneller Hindustani-und moderner europäischer Musik mit Eigenkompositionen

Schon oft waren die Avantgarde-Musiker/in JOPO & Ingeborg Poffet - zu zweit das international tätige Duo fatale - während ihrer Asien-Reisen für jeweils einen Monat in Bombay, um dort im Hause Shejwal die nordindische Hindustani-Musik sowie die Grundsprache der Pakhavaj zu studieren. 1991 gründeten sie dort die Gruppe JAISH (gesprochen djäsch). Im ersten Jahr spielten und lebten sie noch gemeinsam mit Pandit Arjun Shejwal, einem der letzten grossen Meister auf der Pakhavaj, der leider '92 verstorben ist.

Seinem Sohn Prakash Shejwal hat er seine Liebe zur Musik, Tradition und Klassik der nordindischen Hindustani-Musik, technische Brillanz, starke Ausdrucksfähigkeit und Aufgeschlossenheit für Einflüsse und Kombinationen mit anderen Rhythmus-Konstellationen, Neuer Musik und Jazz weitergegeben.

Zum Abschluss ihres zweiten Aufenthaltes dokumentierten sie ihre Arbeit im Trio JAISH (JOPO, Ingeborg und Prakash) mit einer Aufnahme in Bombay, die als Cassette "mumbai-dance" auf XOPF-Records Nr. 18 veröffentlicht wurde.

Dieses Trio JAISH trat 1993 am 2.int. XOPF-Festival '93 in Basel auf, gefolgt von weiteren Konzerten und einer Tournée im April '94 in der Schweiz sowie anfang '96 in Bombay.

Während ihres Aufenthalts in Bombay anfang 1996 formierten sie sich wieder als Quartett: mit dem grossen Meister der Sarangi (ind. Streichinstrument) Anant Kunte, der soeben seine neueste Solo-Aufnahme für All India Radio eingespielt hat. 1930 wurde er geboren und war über 35 Jahre lang festes Mitglied von All India Radio. Mit Prakash spielt er seit 8 Jahren viele Aufnahmen ein.

Im Dezember '97 spielten sie Konzerte in Deutschland: Badischer Kunstverein Karlsruhe, Kino Traumstern Lich und der Schweiz: Schaffhausen, 3.int.XOPF-Festival'97 Basel, XOPF-Pool-International '97, Workshop "musikal. Kommunikation" Musikwerkstatt Basel.

Bei ihrem Aufenthalt Anfang 1998 wurde das Quartett aufgrund der regen Konzerttätigkeit und daher Unabkömmlichkeit von Anant Kunte mit Atul Keskar an der Sitar und Dilruba gebildet. Die neuesten Kompositionen wurden mit ihm einstudiert und im März '98 in Pune aufgenommen.

Im Trio JAISH (Prakash Shejwal, JOPO & Ingeborg Poffet) bestanden sie während eines Tempelkonzertes am Gharana-Festival of Pakhavaj in Bombay ihre "Feuertaufe" vor Fachpublikum (im Hauptsitz der Pakhavaj-Gharana), das begeistert und berührt reagierte und JAISH für zukünftige Tempelkonzerte einlud.

2006 haben JOPO & Ingeborg Poffet ein völlig neues Programm kreiert für Jaish'n electronics, das sie im Studio Platinum in Bombay, Indien für die neue CD "jaishtRonics"aufgenommen haben mit weiteren Aufnahmen & Mischungen in Studios in der Schweiz und Frankreich 2008/2014.

Die Inder sind sehr interessiert an dem Experiment JAISH, wo mittels der Eigenkompositionen von JOPO & Ingeborg eine Kommunikation zwischen Kulturen möglich ist. Traditionsgemäss in beiden Kulturen verwurzelt, stellt die Improvisation einen grossen Stellenwert dar.

JAISH gibt es als Trio mit Prakash Shejwal, JOPO & Ingeborg Poffet, dem Kern der Formation. Als Quartett formieren sie sich seit 1999 mit Milind Sheorey, bansouri, sowie seit 2006 zum Quintett mit Tabla (je nach Verfügbarkeit mit Udai Mazumdar, side-man von Ravi Shankar.)

"Die dynamische Vitalität des Altsaxophons und der Pakhavaj vereinte sich mit der einfühlsamen Melodiösität des Akkordeons zu einem Homogenem Klangbild. Dieses wiederum zeichnete sich sowohl durch eine eigenwillige Harmonie als auch durch eine erfrischende Spontaneität aus." (Zofinger Tagblatt 25.04.94 Ursula Ging)

"Verschieden war von einem Stück zum andern auch die Schlagart (12, 10, 7 oder 8 Schläge), auf deren Basis JOPO & Ingeborg (nicht nur) improvisierten. Was mir dabei besonders gefiel, war die Art, wie Freiräume geschaffen und ausgenützt wurden. Sowohl JOPO als auch Ingeborg versuchten dabei weder möglichst <indisch> zu tönen noch ein traditionelles Perkussionsmuster lediglich als Ausgangspunkt eigener musikalischer Meditation zu benützen. Der Austausch zwischen den Musikern war äusserst ergiebig und vermocht zu überzeugen." (Basellandschaftl. Zeitung 16.11.93 Ruedi Ankli)

Kontakt:




Poffet & Poffet

music-production




Güterstr. 213,

CH-4053 Basel, Schweiz




Tel & Fax: ++41 / 61 / 361 56 70




e-mail: poffet-poffet at bluewin.ch

JOPO (geb. 1956) spielte zuerst Bassguitarre in Blues- und Rock-Bands. Mit 19 begann er auf dem Altosax und später auch Bassclarinette, beides im Jazzbereich. Er leitete verschiedene Jazz-Formationen. Seine Frau

Ingeborg Poffet (geb. 1965) begann früh verschiedene Instrumente zu spielen und zu singen. Ihr erstes Konzert gab sie mit vier Jahren auf dem Accordeon. Später spielte sie klassische und zeitgenössische Konzerte mit Orchestern und als freischaffende Musikerin. Von '84-'86 studierte sie Computer-Musik an der Musikhochschule Köln.

JOPO & Ingeborg gründeten 1989 das "Duo fatale". Hierin geht das Paar eine Symbiose von Eigenkompositionen, Interpretation und Improvisation ein. Sie leben in Basel, Schweiz, und komponieren für ihre eigenen Formationen sowie für Auftragsarbeiten wie Theater und multi-media-Performances. Auf ihren weltweiten Reisen treffen sie auf lokale MusikerInnen, um sich mit ihnen auszutauschen und Konzerte zu geben, wie in der Türkei, Russland, New York, Indonesien, Deutschland, Sudan und Ägypten. Als "Duo fatale" spielten sie an Festivals in Basel, Cheboksary, St. Petersburg, Vilnius, Riga, Tallinn, Pärnu, Münster, Sevilla Expo '92, Singapur, Grenobel, Jakarta und Khartoum. Veröffentlichungen mit "Duo fatale" auf XOPF-Records sind "Fatalos", LP/CD (Nr. 5), "Fatalos 2", CD (Nr. 11), "living in Apollon's garden", Duo fatale & The Duo fatale Orchestra, CD (Nr. 23).

Prakash Shejwal (geb. 1966) lernte Pakhavaj von seinem Vater und Lehrer Pt. Arjun Shejwal. Im Musik-Wettbewerb für Perkussion in Bombay gewann er '76 den ersten Preis, und '83 erhielt er die Gold-Medaille bei einem Wettbewerb, der von All India Radio abgehalten wurde. Er hat sich als "A"-graduierter Künstler bei All India Radio und India Television Programs etabliert. Er gibt Konzerte als Solist sowie als Begleiter von bekannten Künstlern wie Pt. K.G. Ginde, Dr. Bhat, Pt. K.Kumar, Pt. Siyaram Tiwari, die Dagar-Brüder, und Vishwanath Ramshes am Tanzen Teagraja Festival in New Delhi '96. In Europa spielte er mit seinem Vater Pt. Arjun Shejwal ('90), Shrimati Shruti Sadolika ('91), Shujat Khan ('92), Ashwini Bhide ('95) und mit der schweizer Gruppe hati-hati ('93) und der amerikanischen Vokalistin Lisa Sokolov '92 (CD XOPF Nr. 17). Ausserdem nahm er am Bamboo-Projekt '92 sowie am XOPF-Pool-International '93 (MC XOPF Nr. 20) teil.

Für Biographie Milind Sheroey siehe englisch oben

Auf der CD Return to Bombay:

Anant Krishnage Kunte (geb. 1930) begann seine musikalische Laufbahn mit einer Stimmausbildung, gefolgt von Tabla und seit '47 von der Sarangi unter Guru Ustad Amir Bakesh. Später lernte er Cello, das er zwei Jahre lang im Orchester des Studios Radio Bombay spielte. Er gab Sarangi-Konzerte an Muharam, einem wichtigen Muslim-Festival, das weltweit zelebriert wird. Von 1955-90 war er festes Mitglied von All India Radio Bombay. Nebst unzähligen Ton-Aufnahmen begleitete er viele namhafte MusikerInnen wie K.G. Ginde, Pt. S.C.R. Bhatt, Pt. Arjun Shejwal, Pt. Ram Marathe, Pt. Y.B. Joshi, Shrimati Gangubai Hangal, Shrimati Praba Attra u.v.a. Mit Shrimati Shruti Sadolikar ging er '94 auf Welt-Tournée (Schweiz, Paris, Amsterdam, London, U.S.A.).